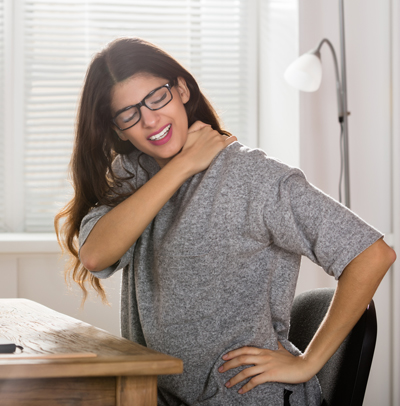 Orthopedic and sports related injuries are common. They may result from diseases such as arthritis or traumatic injury to the bones, muscles and joints anywhere in the body. These include the upper extremities - neck, shoulders, elbows, wrists, hands or fingers. They may also include the lower extremities - back, hips, knees, ankles and feet.
Getting You Out of Pain:
When you're in pain, nothing seems right. You miss out on your favorite activities. The musculoskeletal system is critical to everything you do. Yet every year thousands of people suffer from a variety of bone, muscle and joint injuries while participating in their favorite activities such as sports, gardening and exercising.
In our offices you will find caring, skilled physical therapist with specialized training to address your specific condition. Our therapist have the background and experience to treat a wide variety of orthopedic, post-surgical, acute and chronic musculoskeletal conditions. We have the particular skill and expertise in treating all sorts of conditions of the upper extremity including overuse injuries, fractures and dislocations, repetitive motion injuries, carpal tunnel syndrome, torn ligaments/muscles/tendons and fractures.
Likewise, we are equally competent in addressing any number of lower extremity injuries including lower back pain, joint replacements, muscle and ligament sprains and strains, Achilles tendinitis, plantar fasciitis, arthritis, bursitis and tendinitis.
Our mission is to help people function at their best. We wantyou to move without pain and get stronger so you can avoid further injuries. Our rehab programs are based on restoring function using evidence - based protocols. These programs are designed to reflect the individual needs of each patient. Our approach to treatment is to provide an environment that promotes healing and encourages active involvement from each patient. Prior to beginning a course of physical therapy we will first perform a complete evaluation. We will detail and document your physiologic and functional ability and then design a plan to address your specific needs. We will communicate our findings with your physician and provide your doctors with ongoing communication about your progress.
We truly care about your safe and rapid recovery. If you are a family member would like more information about how we can treat any of your orthopedic, upper extremity, lower extremity or sports injuries please feel free to call us at any one of our locations.